Yes, Kat Von D is still married to Rafael Reyes. The couple, who tied the knot in 2018, also have a son together. 
Kat Von D, the renowned Mexican-American tattoo artist and television personality, has been in the public eye for her artistry and appearances on reality TV shows. One significant aspect of her life that has captured public interest is her marriage to Rafael Reyes, a multifaceted artist, musician, and author.
In this article, we delve into their relationship, exploring whether the couple is still married and shedding light on their journey together.
Previously, we covered the relationship details of Oliver Tree and Julian Casablancas.
Are Kat Von D and Rafael Reyes Still Married?
Kat Von D (@thekatvond) and Rafael Reyes, known professionally as Leafar Seyer, tied the knot on February 21, 2018, marking the beginning of their journey as a married couple. Rafael, part of the electronic rock duo Prayers, is credited with creating the unique "cholo goth" genre of music, showcasing his creativity and originality in the music scene. Their relationship has been an intriguing blend of artistic passion and shared experiences.
Rafael Reyes, an artist of many talents, has made a name for himself not only as Kat Von D's husband but also as an accomplished author, artist, and musician. His influence on the music scene, co-founding Prayers, has been notable, pioneering the cholo goth genre with a unique blend of electronic and rock elements.
Rafael (@prayers) has often spoken about the challenges he faced in his early life, shaping his artistic vision and the birth of the cholo goth movement. He created his own language through his work, reflecting his struggle and triumph over a challenging environment.
Their marriage was a celebration of love and creativity, with Kat Von D and Rafael Reyes supporting each other in their respective artistic endeavors. Following their marriage, they welcomed a son named Leafar Von D Reyes in December 2018, further cementing their bond as a family.
Their family life, while private, is occasionally shared with the public through Kat Von D's social media, where glimpses of their happiness and moments together are revealed. Fans continue to show their support and interest in their journey as a family.
As of the latest available information in October 2023, Kat Von D and Rafael Reyes are still married. Their journey together as artists, partners, and parents is a testament to their bond and shared passion for creativity.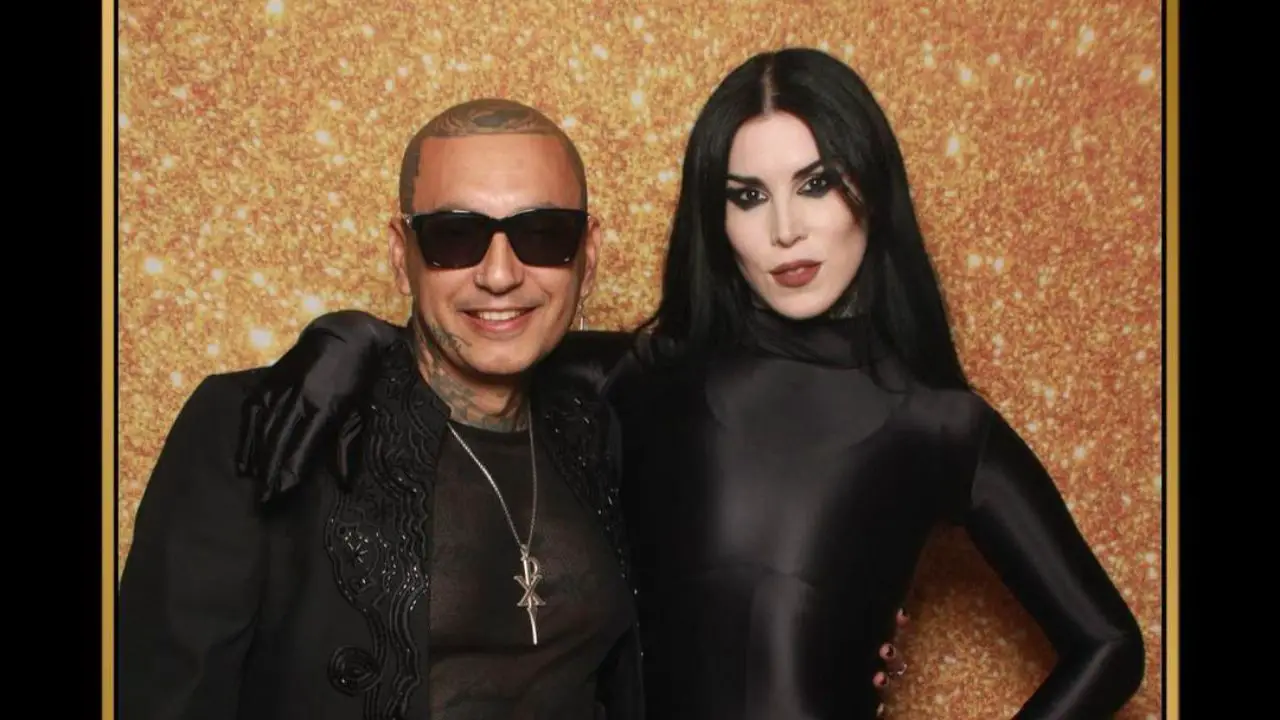 Kat Von D and Rafael Reyes have been married since 2018.
Image Source: Instagram
Kat Von D and Rafael Reyes' marriage stands as a testament to the power of art, love, and creativity. Their journey, from the early days of their relationship to their life as a married couple and parents, continues to intrigue fans and admirers. The art they create individually and as a couple showcases their passion, dedication, and the enduring nature of their love.
Kat Von D's Spiritual Journey: A Year After Renouncing Witchcraft
Renowned tattoo artist and LA Ink star Kat Von D has embarked on a new chapter in her life. Over a year after publicly announcing her decision to renounce witchcraft, Kat shared a heartfelt video of her baptism on October 3. This significant moment marks a transformative period in her spiritual journey.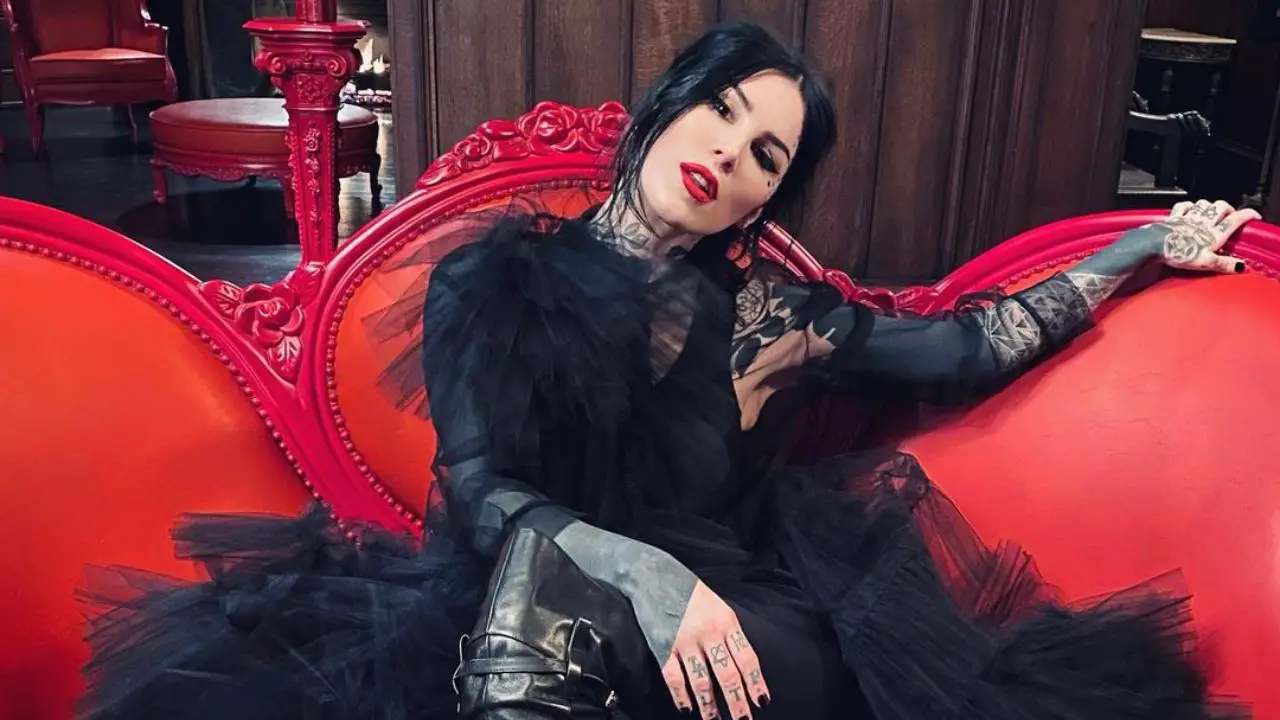 Kat von D recently got baptized in October 2023.
Image Source: Instagram
In July 2022, Kat Von D made a public declaration of her change in beliefs and interests. The artist shared her realization of having misunderstood several aspects of her past and revealed her decision to part ways with her interest in macabre subject matters. Kat also took the step to cleanse her personal library, discarding books that no longer aligned with her evolving beliefs.
In her social media post, Kat emphasized that her decision was personal and not meant to demean anyone with an interest in subjects like witchcraft. She emphasized the importance of following her own path, acknowledging a spiritual battle and striving to surround herself and her family with love and light.
On October 3, 2023, Kat Von D shared a video capturing her baptism ceremony on Instagram. The clip begins with angelic music as the camera focuses on the participants and the baptismal pool. The pastor performs the baptism, emphasizing Kat Von D's profession of faith in Jesus Christ and her obedience to divine command. The ceremony, marked by a sign of the cross, was witnessed by those in attendance who applauded as a symbolic gesture of spiritual rebirth.
Kat Von D's spiritual journey is deeply entwined with her family life. She and her husband, Rafael Reyes, welcomed their son, Leafar Von D Reyes, into the world in 2018. The couple's dedication to their faith and family is evident in their journey and the choices they make to nurture a life surrounded by love and light.
Kat Von D's decision to publicly share her spiritual journey and her baptism is a testament to her authenticity and the importance she places on her evolving beliefs. The tattoo artist and mother continues to inspire through her openness and willingness to embrace change, offering a beacon of hope for those seeking their own paths of self-discovery and growth.