Xiong Jing Nan is an accomplished fighter who was able to break gender stereotypes through her fights in ONE. Due to her appearance and style she received a commentaries on her gender and identity. Here we detail her gender identity and all the trials and success of her career.
In the male-dominated world of mixed martial arts (MMA), the narrative surrounding female fighters often extends beyond their achievements in the ring. Xiong Jing Nan, the inaugural and reigning ONE Women's Strawweight World Champion, has been a trailblazer in breaking gender stereotypes. Born on January 12, 1988, in Jining, Shandong, China, Xiong's journey from a village in Shandong to becoming the first-ever Chinese world champion in MMA history has been nothing short of extraordinary.
Previously, we covered the orientation of 6arelyhuman and Ben Hardy.
Xiong Jing Nana Gender: Challenges and Hate Comments
Despite her remarkable success, Xiong has not been immune to the scrutiny that female athletes, particularly in combat sports, often face regarding their physical appearance. In the lead-up to her championship bouts, Xiong has been subjected to what she refers to as "hate comments" concerning her perceived masculine appearance. This unfortunate trend mirrors the broader societal issue witnessed even on international stages like the Olympics, where female athletes are criticized for deviating from traditional gender norms.
Xiong Jing Nan is a female fighter with Evolve MMA but due to her appearance questions on her gender have been raised.
Photo Credit: Instagram
Xiong addresses these comments with resilience, stating, "Of course, I've received such comments. But I'm not affected by them. I can't speak for other female athletes, but these kinds of comments only motivate me." This unwavering determination is a testament to Xiong's character and highlights her ability to rise above external judgments.
Achievements Defying Stereotypes
Xiong's achievements in the world of MMA serve as a powerful counter-narrative to the gender-based criticisms she has faced. Winning the inaugural ONE Women's Strawweight World Championship in 2018 marked a historic moment not only for her but for Chinese MMA as a whole. Her subsequent three-year reign, successfully defending her title, showcased not just her physical prowess but also her mental resilience in the face of adversity.
With a professional MMA record of 17 wins and only 2 losses as of May 2021, Xiong is currently ranked No. 3 in the Strawweight division. These accomplishments speak volumes about her skill, dedication, and commitment to the sport. Xiong's ability to overcome challenges within the ring, coupled with her determination to challenge societal expectations outside of it, positions her as a role model for aspiring athletes, especially women in the world of MMA.
Xiong Jing Nan Personal Life and Family Support
Beyond the arena, Xiong's personal life adds another layer to her narrative. Contrary to traditional expectations, especially in Chinese society, Xiong has received unwavering support from her family, particularly her father, who has been instrumental in her martial arts journey. "My family has always been supportive in whatever it is I want to do, and they won't force or influence me to pursue something I won't be happy in," she expresses.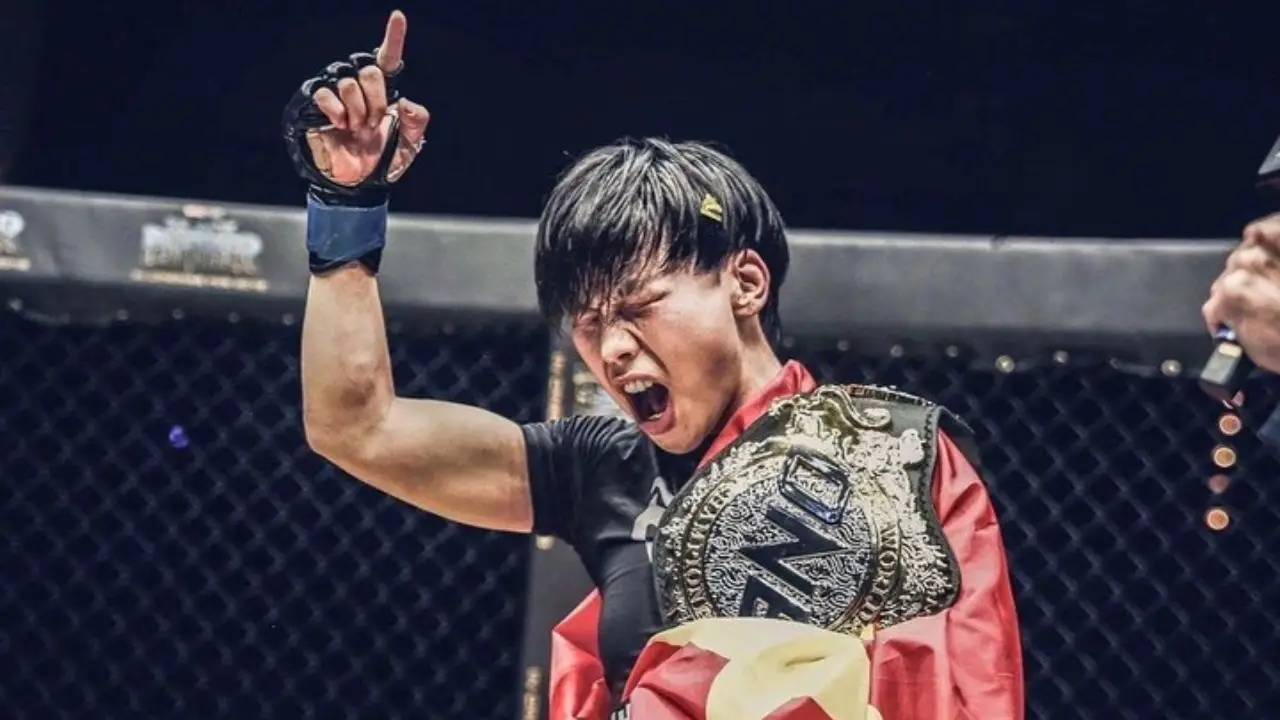 Xiong Jing Nan is married to her husband and identifies as female.
Photo Credit: Instagram
In addition to her family support, Xiong is a married woman, sharing her life with a martial artist named Guillermo. The couple has two sons, adding a dimension to Xiong's story that goes beyond the confines of the ring. Her ability to balance a family life while excelling in a sport known for its physical demands further dismantles traditional stereotypes surrounding gender roles.
In a sport where physical prowess and mental resilience are paramount, Xiong Jing Nan stands tall, not just as a formidable fighter but as a symbol of empowerment for women in MMA. Her journey, marked by achievements, resilience, and a steadfast commitment to her passion, challenges societal norms and stereotypes associated with gender. As Xiong continues to pave the way for future generations of female athletes, it becomes evident that her impact extends beyond the octagon, making her a beacon of inspiration for those who dare to challenge conventions in the pursuit of their dreams.