Patrick Schwarzenegger is forging his path in the world of Hollywood, away from the name of his father. Expanding his horizons the actor has played variety of characters and recently questions have been raised if Patrick is gay. Is reel-life imitating real life? Find out the details of the Gen V actor.
Patrick Schwarzenegger, known for his diverse roles in film and television, has recently found himself in the midst of rumors and speculations regarding his sexuality. While his personal life is a subject of public interest, it's crucial to separate fact from fiction and explore the various facets of Patrick's life, including his relationship with girlfriend Abby Champion, his recent role in the Prime Video show Gen V, and the persistent rumors surrounding his sexual orientation.
In our previous articles, we covered the cast and character of hit Prime Video show Gen V such as Lizze Broadway and her gymnastics background, Jordan Li and their powers and incel allegations against actor Chance Perdomo.
Addressing the Patrick Schwarzenegger Gay Rumors
In recent discussions about Patrick Schwarzenegger, rumors about his sexuality have taken center stage. These rumors appear to stem from his portrayal of Todd Peterson in The Staircase miniseries, where the character briefly explores his sexuality in a scene that was shot but did not make the final cut. Despite this, it's important to note that Patrick himself has not made any public statements regarding his sexual orientation.
Patrick Schwarzenegger being gay is trending due to his role in the HBO series The Staircase.
Photo Credit: Instagram
The entertainment industry often grapples with the challenge of distinguishing an actor's role from their personal life. While Patrick's character in The Staircase engaged in a storyline exploring his sexuality, it's crucial to respect the distinction between fiction and reality.
Patrick's Relationship with Girlfriend Abby Champion
Away from the screen, Patrick Schwarzenegger has been in a long-standing relationship with model Abby Champion. The couple has been together since 2016, maintaining a relatively private relationship despite Patrick's public profile. Abby has been a constant presence at family gatherings, including Patrick's sister Katherine Schwarzenegger's wedding to Chris Pratt in 2019.
The pair manages to balance their busy schedules, with Patrick mentioning in previous interviews that staying in touch through FaceTime and calls helps them appreciate the time they have together. This commitment was evident during their celebration of Patrick's 30th birthday in September 2023, showcasing the enduring strength of their relationship.
Patrick's Role in Prime Video's Gen V
Patrick Schwarzenegger is set to captivate audiences in the upcoming Prime Video series Gen V. In this irreverent, R-rated show that explores the lives of superpowered individuals in a college setting, Patrick plays the character Luke Riordan, also known as Golden Boy. The character initially appears to be a star senior with pyrotechnic powers, but a dramatic turn of events changes the trajectory of Golden Boy's role in the series.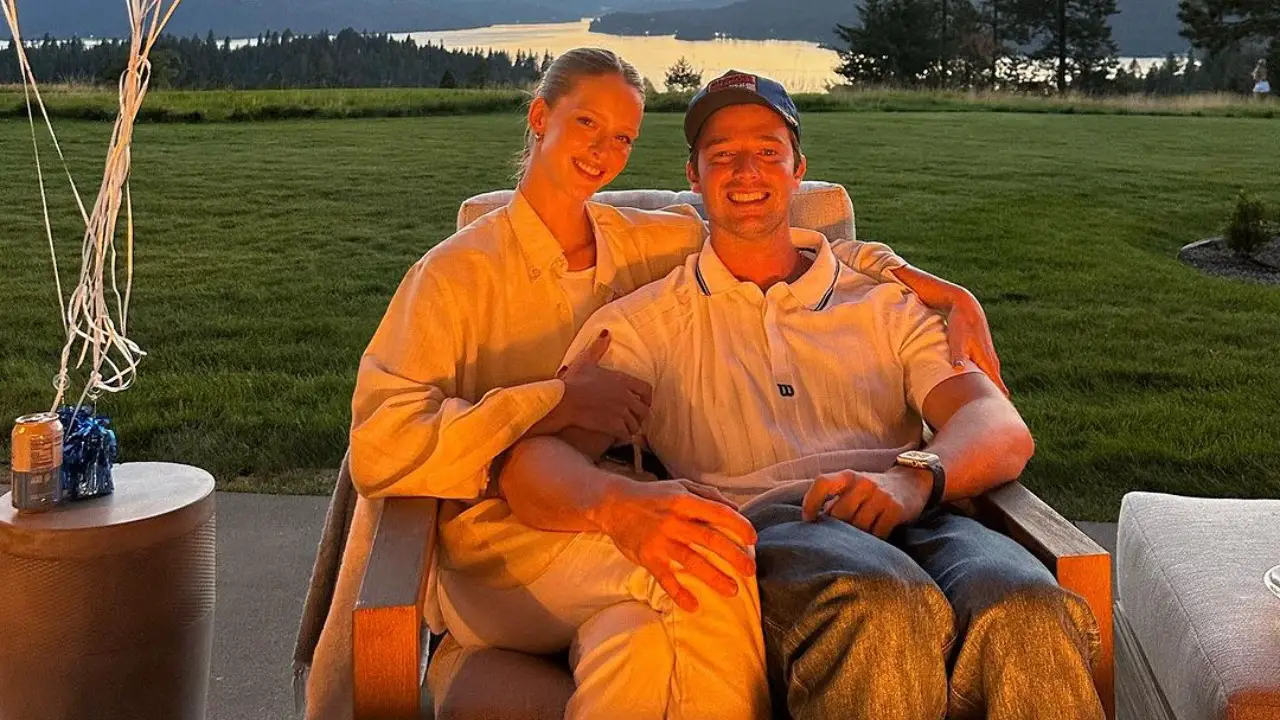 Patrick Schwarzenegger has been dating his girlfriend Abby Champion for over 7 years now in 2023.
Photo Credit: Instagram
The show introduces a mystery surrounding Luke's actions, promising a plot filled with twists and turns. Patrick, known for his previous roles in The Staircase and The Boys, brings his talent to this new project, which is expected to deliver a unique blend of humor, satire, and raunchiness.
In the world of entertainment, celebrities often find themselves under the scrutiny of public attention. Patrick Schwarzenegger, while navigating his acting career with diverse roles, has faced recent speculation about his sexuality. However, it's essential to recognize the distinction between his on-screen portrayals and his personal life.
Patrick's enduring relationship with Abby Champion and his upcoming role in Gen V are testaments to his commitment to both his craft and personal connections. As the rumors persist, it's crucial for audiences to approach such discussions with sensitivity and respect for the privacy of individuals in the public eye. Patrick Schwarzenegger continues to carve his path in the entertainment industry, leaving audiences eager to see what the future holds for this talented actor.