Love Island's Courtney Boerner stuns fans with 19 plastic surgery treatments! From throwback shockers to open transformations, her journey sparks social media buzz.
Love Island USA star Courtney Boerner has taken the reality TV world by storm, not just with her on-screen presence but also with her candid admission of undergoing a staggering 19 plastic surgeries. From a striking transformation in appearance to unapologetically embracing her altered self, Courtney's journey is one that has left fans both shocked and intrigued.
Earlier, we discussed the plastic surgery changes of SZA and Anne Hathaway.
Did Love Island Star Courtney Boerner Undergo Plastic Surgery?
Before gracing the Love Island screen, Courtney Boerner embarked on a personal journey of self-transformation through cosmetic procedures. The 24-year-old reality TV star revealed her decision to undergo 19 plastic surgeries, completely reshaping her physical features. Fans were quick to notice her tiny waist, straight brown hair, fuller lips, and a more prominent derriere, prompting discussions about the extent of her surgical enhancements.
Reddit became a platform for fans to express their shock as throwback pictures of Courtney surfaced, showcasing her pre-surgery appearance. The images revealed a Courtney with massive curly brown and blonde hair, less prominent features, and a different overall look. Fans marveled at the drastic change, with some finding it hard to believe it was the same person.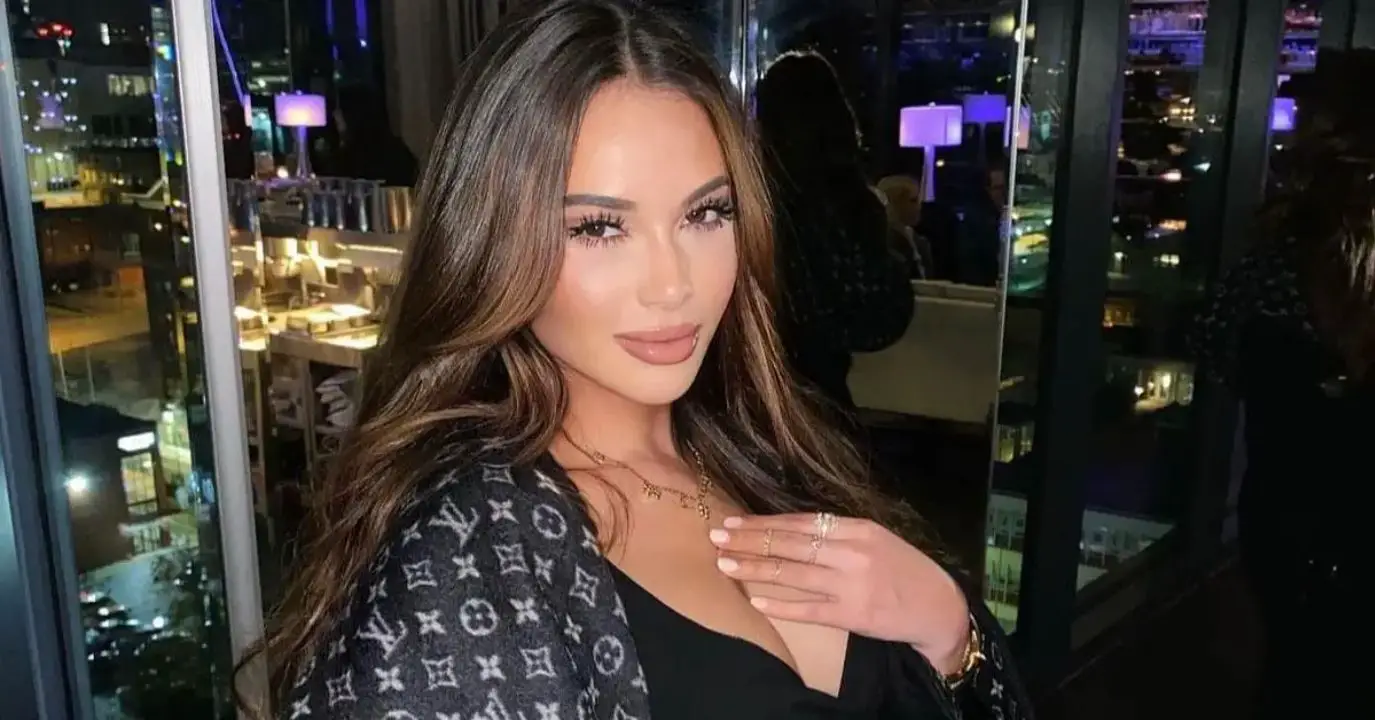 Courtney from Love Island has reportedly undergone 19 plastic surgery enhancements.
Image Source: Distractify
The revelation sparked a range of reactions from Love Island enthusiasts. Some expressed disbelief at the extent of Courtney's transformation, emphasizing how she looked like a "whole different person." Others, however, commended her post-surgery appearance, noting that despite the drastic changes, she appeared far from "botched."
Unlike some celebrities who choose to keep their cosmetic procedures under wraps, Courtney Boerner has been refreshingly open about the surgeries she has undergone. From dental veneers to a Brazilian Butt Lift, breast augmentation, and alterations to her lips, she has openly shared details of her cosmetic journey, even disclosing a surprising sweat gland removal surgery to combat sweaty feet.
With 19 surgeries in the mix, fans have speculated about the specific procedures Courtney underwent. On social media platforms, curiosity runs high as supporters discuss potential enhancements like boob jobs, teeth, nose jobs, liposuction, and possibly even a mini Brazilian Butt Lift. The mystery surrounding the remaining 14 surgeries has only added to the intrigue.
Courtney's appearance isn't the only thing that underwent a transformation. Love Island USA itself underwent a significant makeover, shifting from CBS to the streaming platform Peacock for seasons 4 and 5. Alongside this move, the show bid farewell to its original host, Arielle Vandenberg, and welcomed Sarah Hyland as the new face of Love Island.
Love Island's Courtney Boerner has become a captivating figure in the realm of reality TV, not just for her on-screen presence but also for her willingness to share her journey of self-transformation. As discussions around plastic surgery in the public eye continue, Courtney stands as a testament to embracing one's choices openly, regardless of societal norms. Love Island fans are sure to follow her journey with curiosity and perhaps a newfound appreciation for the power of personal transformation.
Love Island USA Fans Discuss Courtney's Dramatic Plastic Surgery Transformation
In a recent Reddit thread on the Love Island USA subreddit, users engaged in a lively discussion surrounding Courtney, a contestant who reportedly underwent 19 plastic surgeries. The thread started with a user sharing before-and-after pictures of Courtney, prompting a range of reactions from the community. Many users expressed astonishment at the extent of Courtney's transformation, highlighting the significant changes in her appearance. Some speculated about the specific surgeries she might have undergone, while others discussed the societal pressures and expectations that may contribute to such decisions, especially within the context of reality TV.
Throughout the discussion, there was a mix of opinions on Courtney's transformation. Some users expressed support for her choices, emphasizing the importance of individuals making decisions that make them feel good about themselves. Others shared their preferences, with some stating they found her more attractive before the surgeries, appreciating what they described as a more natural look. The conversation also delved into the broader issues of body image, the influence of social media, and the pressures people, particularly women, may face in conforming to certain beauty standards.
The thread revealed a diverse range of perspectives on plastic surgery, societal expectations, and individual choices regarding appearance. It provided a platform for Love Island USA fans to share their opinions on a contestant's transformation and engage in a broader conversation about beauty standards in the age of reality television.