The invented idea of perfect beauty has claimed many a humans. Bella Hadid was only 14 when she got a nose job and now fans want to know how she looked pre nose job. Here are the before and after pictures and all the details you need.
In the dazzling world of fashion and beauty, the name Bella Hadid has become synonymous with grace, style, and an ever-evolving aesthetic. Beyond the glitz and glamour, Bella's journey through the corridors of fame has been marked by a revelation that has stirred conversations across the industry—the admission of a nose job at the tender age of 14.
This article delves into the intricacies of Bella Hadid's transformative journey, beginning with the revelation of her nose job, a pivotal decision that has sparked discussions on societal pressures, teenage insecurities, and the impact of cosmetic procedures on young individuals. Join us as we explore Bella's candid revelations, her responses to fan speculation on plastic surgery, and the broader narrative of her evolving appearance over the years, dissecting the controversies and complexities that surround the model's quest for identity in the limelight. Welcome to the captivating narrative of Bella Hadid pre nose job—a tale that transcends the runways and reflects the multifaceted nature of beauty in the modern era.
Previously, we covered the plastic surgery procedures of Patrick Dempsey and Lele Pons.
The Revelation of Bella Hadid's Nose Job
Bella Hadid, the renowned model and daughter of former "Real Housewives of Beverly Hills" star Yolanda Hadid and real estate developer Mohamed Hadid, has been a subject of fascination and speculation in the world of beauty and fashion. One significant aspect that has recently come to light is Bella's admission of undergoing a nose job at the tender age of 14. This revelation has sparked conversations about beauty standards, societal pressures, and the impact of cosmetic procedures on young individuals.
Bella Hadid was 14 years old when she got rhinoplasty. Pre nose job the model had a slightly larger nose.
Photo Credit: Instagram
In a candid interview with Vogue in 2022, Bella expressed her regret over altering her appearance, stating, "I wish I had kept the nose of my ancestors. I think I would have grown into it." This admission has opened a window into the world of teenage insecurities and the complex decisions individuals make in pursuit of societal ideals.
The decision to undergo plastic surgery at such a young age is not without controversy. The American Society of Plastic and Reconstructive Surgeons reports that nearly 230,000 cosmetic surgeries were performed on teens aged 13-19 in 2017, highlighting the prevalence of such procedures among young individuals. Legalities aside, the psychological impact on teenagers, as discussed by experts, raises important questions about emotional maturity and the long-term implications of cosmetic interventions.
Bella's Response to Fan Speculation on Plastic Surgery
Bella Hadid has long been in the spotlight, not only for her modeling prowess but also for the constant scrutiny of her appearance on social media. In a 2018 interview, when she was 21 years old, Bella addressed the rumors and speculations surrounding her looks, stating, "People think I got all this surgery or did this or that. And you know what? We can do a scan of my face, darling." Despite the accusations and negative comments from Instagram followers, Bella maintained her stance against fillers and expressed her reluctance to jeopardize her face.
This public dialogue sheds light on the challenges faced by celebrities, particularly young women, in navigating societal expectations and dealing with constant scrutiny. Bella's responses reflect a strong stance against altering her features beyond the nose job she admitted to, emphasizing the importance of authenticity in the face of societal pressures.
Beyond the Nose Job - Other Procedures Over the Years
While Bella Hadid has been open about her nose job, she vehemently denies undergoing any other surgical enhancements or using fillers and Botox. Her mother, Yolanda Hadid, has supported these claims, stating on Instagram that none of her children have opted for such procedures. However, the beauty industry and social media have consistently speculated about Bella's evolving looks over the years.
Analyzing Bella's transformation from 2010 to 2022 reveals various phases in her appearance. From her early red carpet appearances to her debut in the modeling industry, experts and observers have noted changes that go beyond the admitted nose job. Some have suggested the possibility of fillers to enhance cheek structure, lip volume, and even a surgical brow lift or the use of neuromodulators like Botox.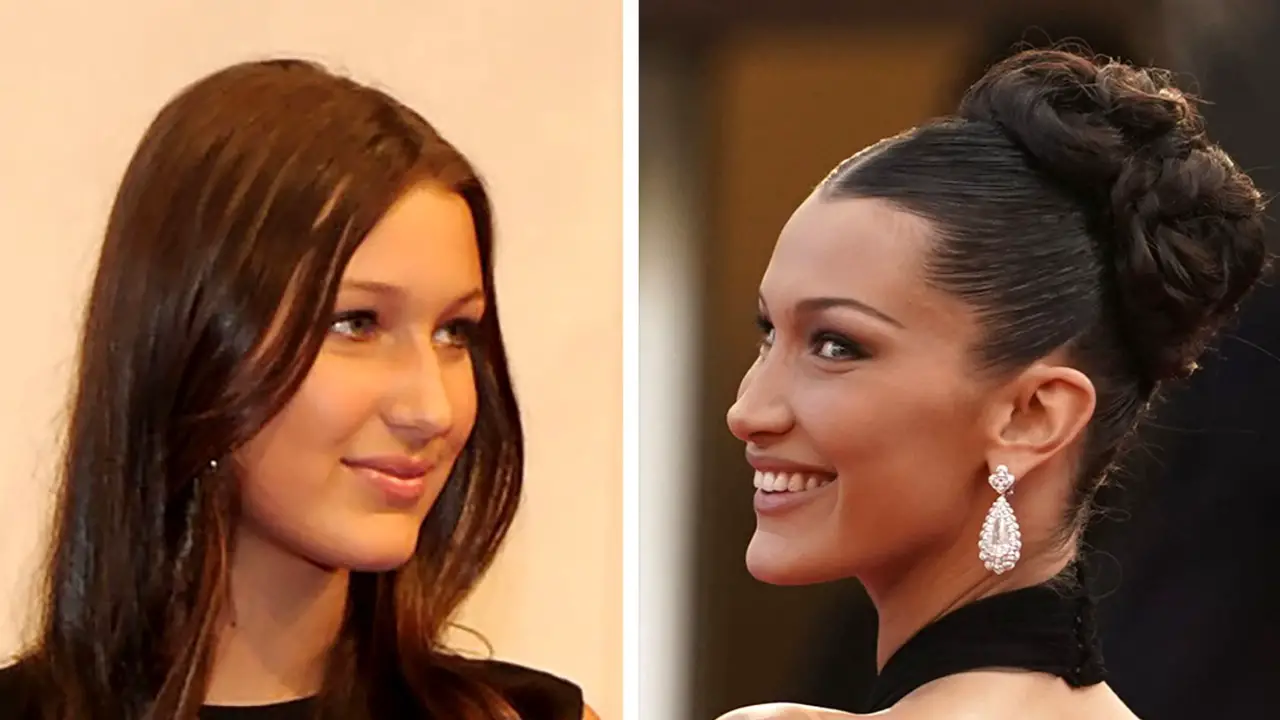 Bella Hadid's fans have alleged other plastic surgery procedures beyond the nose job, over the years.
Photo Credit: Instagram
Plastic surgeons have weighed in on the changes, with Dr. Anthony Youn noting similarities to injectable filler in Bella's lips, Dr. Norman Rowe suggesting cheek and lip fillers, and Dr. James Marotta pointing out changes in her upper eyelids and overall facial structure. The latest suspected procedure, buccal fat removal, has also been discussed, with Dr. Matthew Schulman highlighting the defined jawline and less full cheeks observed in recent appearances.
While Bella Hadid's nose job revelation has sparked discussions about beauty standards and cosmetic procedures among teens, her overall transformation continues to be a topic of intrigue and speculation. The model's openness about her insecurities and decisions provides a glimpse into the challenges faced by individuals in the public eye, navigating the delicate balance between personal authenticity and societal expectations.
Bella Hadid's journey, marked by the pre-nose job era and the subsequent revelations, serves as a reflection of the complexities and pressures that come with fame in the modern era.